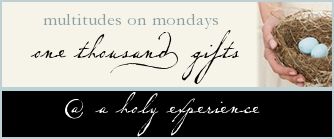 I smiled today as I wrote gift #203 in my One Thousand Gifts journal, seeing as how I'm one-fifth from the (first) 1,000 and have only used a few scant pages of the journal. So many more pages to fill, and I will. And then another journal and another after that. Hopefully there will be many more to fill in the remaining number of my days.
Ann writes of her days being numbered, and how the accounting hearts are the ones that keep track. I frown to think of how much I dislike math, and I'm pretty sure it hates me back.
Is that why I feel so bewildered today? Not depressed, exactly, just...down. Is it hormones, or a streak of sadness that this is the second birthday boy in two weeks I can't see on his day? Or is it a simple lack of accounting, and does this mean I need to learn to like math?
If I can count past one thousand, is that enough?
And the list grows and grows...
188. Beautiful friend held in God's arms, healed and whole and Home
189. Church bells ringing, carried on a March breeze to my bedroom window
190. Words of appreciation from a daughter's heart
191. Loving personal messages from Ann, full of grace
192. Ann's and the OTG community's sweet promise of prayer
193. Moon, beautiful moon, so very close
194. Creative-minded daughter redesigning her swimsuit
195. Clothes to mend (since I've got the sewing stuff out anyway...)
196. Moments to tell our whole church at once about One Thousand Gifts--a gift that continues to build into lives and turn eyes and hearts to Him
197. Waking in the night snuggled up to a beautiful girl-baby, little chest rising and falling in sweet rhythm, hair soft and wispy. Being a Mimi is moon-big joy.
198. An evening of hot chocolate and words woven and time spent with my beloved
199. Delighting in being faithful with the little things, just loving on the people along my path
200. The lyrics to "Take My Life and Let It Be"
201. Texting love notes back and forth with my husband
202. Pork in the crock pot simmering for a pulled-pork supper
203. Telling God He is good even when what's happening isn't
204. Middle child, cherished child, twenty today