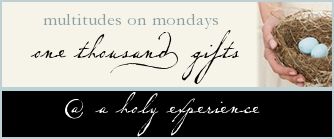 All these things that hurt us, that sucker-punch us and take our breath away, they can't keep gaining victory over us because they came to pass.
They came...to pass.
That's something to be grateful for, that these light and momentary troubles (that usually seem neither light nor momentary) came, had their moment in the sun, and then passed.
The misunderstandings, the failures to communicate, the growing pains, the hormones churning and changing, the confusion brought on by one life season morphing into the next, they will have their day and then the sunset will come. There will be rest and there will be the rising of a bright, hopeful sun.
And in each new day we will encounter all these familiar hurdles but this time we are stronger.
This time we know just a little bit more, have a little more hope. We have a better outlook.
And outlook makes all the difference.
I face the new day, the new week, with a smile.
Gifts one by one, all the way to one thousand...
251. Phone call from my Bree
252. Ciabatta, 4 loaves, piping hot from the oven, packed to send with my girlie to her sleepover
253. Fresh-squeezed lemonade with extra pulp and a bit of zest
254. Poetic words leading a friend to think of me
255. Polish sausage medallions and cheddar slices on sun-dried tomato and basil wheat thins, with tart lemonade over ice
256. A longing deep within to eat intuitively according to the Creator's design
257. Loving accountability among friends
258. Support showing up unexpectedly
259. My daughter's thoughts on
One Thousand Gifts
260. Anticipation of reviving a family reunion once vibrant and strong and connected